Submitted by

chandra

on Wed, 2023-04-19 16:27
We welcome Ian Brunton, a research scientist currently at NASA Johnson Space Center in the Astromaterials Research and Exploration Science Division as our guest blogger. In this post, he describes his team's work below on the effects that a nearby supernova may have on an Earth-like planet and its biosphere. Ian first became involved with this area of research as an astronomy student of Brian Fields at the University of Illinois. He will soon be continuing his academic studies as a PhD student at Caltech in the Division of Geological and Planetary Sciences.
Much has been said about the extraordinary advancements throughout the field of astronomy, particularly regarding the innovative ways in which we can now observe the universe across the electromagnetic spectrum. Chandra has of course been one of the instruments at the forefront of this exploration for the last couple of decades, illuminating the universe in the X-ray band. These new ways of looking at our universe have served to confirm, alter, or entirely upend our prior notions of certain astrophysical processes.
What I personally find most intriguing is how these new observations can then be integrated into the knowledge and pursuits of other scientific disciplines, be it planetary science, atmospheric chemistry, geology, etc.
One of the most fascinating processes (if I may say so myself…) that orbital X-ray telescopes are especially handy for are supernovae, i.e., exploding stars! I'll elaborate a bit on exactly why below, but first, some background on nearby supernovae and Earth is needed since our project really builds upon a lot of previous work in the field.
Everyone loves a good astronomical explosion, and supernovae — typically characterized by the wondrous spectacle of their initial outbursts — are some of the best explosions in the known universe. In the blink of an eye, these monstrous events can outshine the entire combined output of stars in a galaxy, launching neutrinos, photons, and stellar material out into the abyss of the interstellar medium.
Submitted by

chandra

on Tue, 2023-02-28 10:14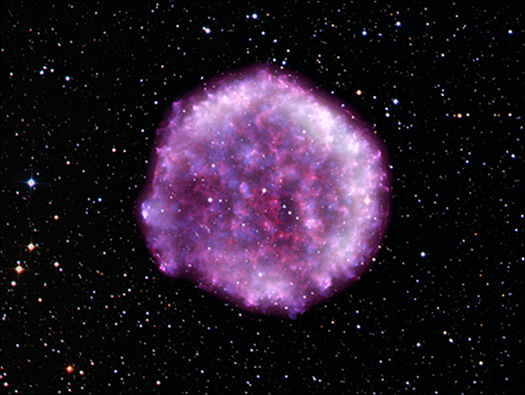 Tycho's Supernova Remnant
Credit: X-ray (IXPE: NASA/ASI/MSFC/INAF/R. Ferrazzoli, et al.), (Chandra: NASA/CXC/RIKEN & GSFC/T. Sato et al.) Optical: DSS, Image processing: NASA/CXC/SAO/K. Arcand, L. Frattare & N. Wolk
This image provides a new look at the Tycho supernova remnant, named for Danish astronomer Tycho Brahe who noticed the bright glow of this new "star" in the constellation Cassiopeia more than 450 years ago. Astronomers used NASA'S Imaging X-ray Polarimetry Explorer (IXPE) to study polarized light from Tycho, the debris from an exploded star, as described in IXPE's latest press release. IXPE revealed, for the first time, the geometry of the magnetic fields close to the supernova's blast wave, which is still propagating from the initial explosion and forms a boundary around the ejected material. Understanding the magnetic field geometry allows scientists to further investigate how particles are accelerated there.
In this composite image, data from IXPE (dark purple and white) have been combined with those from NASA's Chandra X-ray Observatory (red and blue), which were overlaid with the stars in the field of view seen by the Digitized Sky Survey.
Pages