Q&A: Normal Stars, White Dwarf Stars, and Star Clusters
Q:
Is Antares showing signs of pre-Supernova activity like Eta Carinae or Betelgeuse?
A:
We believe it will be many years before Antares shows any signs of pre-supernova activity. More information on this star may be found at:
http://imagine.gsfc.nasa.gov/docs/ask_astro/answers/970221b.html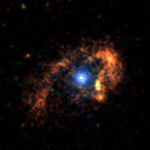 The Chandra site has a field guide to supernovas:
http://chandra.harvard.edu/xray_sources/supernovas.html
which explains the process by which the star evolves and explodes. Another site you may appreciate is at the University of Michigan, again on the evolution of stars:
http://www.umich.edu/~gs265/star.htm
If you consider that even the most massive stars, with the shortest lifetimes before exploding, still live for about 2 million years, then you can see that it would be an amazingly lucky coincidence if we happened to look with a telescope at a star at the exact moment it began to show signs of pre-explosion activity. Although, as you'll read in the Chandra site mentioned above, if we had had a telescope in the year 1054, we would have observed an event just like this. We may get lucky again in our lifetime!