Submitted by

chandra

on Mon, 2018-12-10 11:05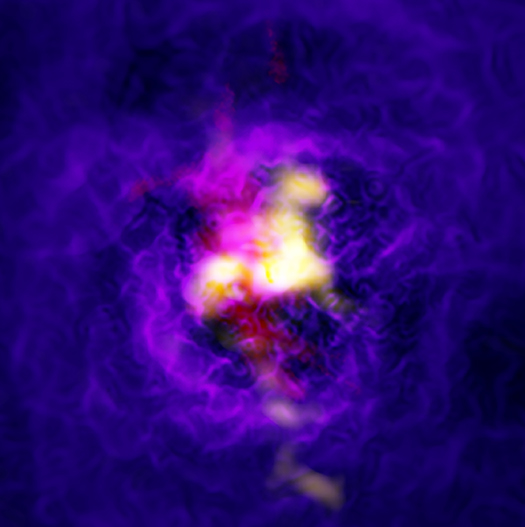 Abell 2597
Credit: X-ray: NASA/CXC/SAO/G. Tremblay et al; Radio:ALMA: ESO/NAOJ/NRAO/G.Tremblay et al, NRAO/AUI/NSF/B.Saxton; Optical: ESO/VLT
Before electrical power became available, water fountains worked by relying on gravity to channel water from a higher elevation to a lower one. This water could then be redirected to shoot out of the fountain and create a centerpiece for people to admire.
In space, awesome gaseous fountains have been discovered in the centers of galaxy clusters. One such fountain is in the cluster Abell 2597. There, vast amounts of gas fall toward a supermassive black hole, where a combination of gravitational and electromagnetic forces sprays most of the gas away from the black hole in an ongoing cycle lasting tens of millions of years.
Scientists used data from the Atacama Large Millimeter/submillimeter Array (ALMA), the Multi-Unit Spectroscopic Explorer (MUSE) on ESO's Very Large Telescope (VLT) and NASA's Chandra X-ray Observatory to find the first clear evidence for the simultaneous inward and outward flow of gas being driven by a supermassive black hole.