Submitted by

chandra

on Mon, 2019-12-16 15:25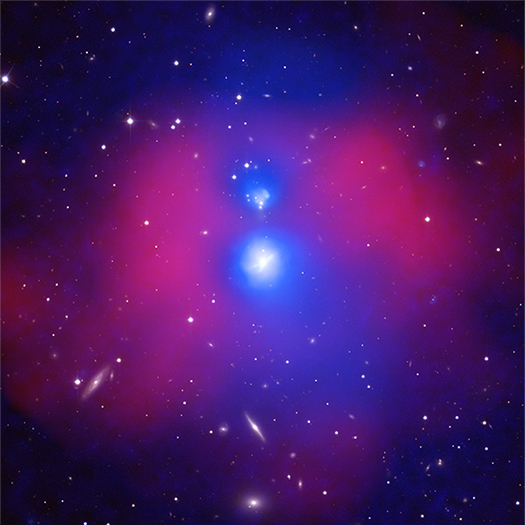 NGC 6338
Credit: X-ray: Chandra: NASA/CXC/SAO/E. O'Sullivan; XMM: ESA/XMM/E. O'Sullivan; Optical: SDSS
As the holiday season approaches, people in the northern hemisphere will gather indoors to stay warm. In keeping with the season, astronomers have studied two groups of galaxies that are rushing together and producing their own warmth.
The majority of galaxies do not exist in isolation. Rather, they are bound to other galaxies through gravity either in relatively small numbers known as "galaxy groups," or much larger concentrations called "galaxy clusters" consisting of hundreds or thousands of galaxies. Sometimes, these collections of galaxies are drawn toward one another by gravity and eventually merge.
Using NASA's Chandra X-ray Observatory, ESA's XMM-Newton, the Giant Metrewave Radio Telescope (GMRT), and optical observations with the Apache Point Observatory in New Mexico, a team of astronomers has found that two galaxy groups are smashing into each other at a remarkable speed of about 4 million miles per hour. This could be the most violent collision yet seen between two galaxy groups.