Overview
Most of the exoplanets discovered so far are in a relatively small region of our Milky Way galaxy. By measuring the size and mass of exoplanets, scientist can determine their compositions. These range from very rocky (like Earth and Venus) to very gas-rich (like Jupiter and Saturn). Exoplanets are made up of elements similar to those of the planets in our Solar System, but the mixtures of those elements may differ. For example, some planets may be dominated by water or ice, while others are dominated by iron or carbon. Astronomers have identified lava worlds covered in molten seas, puffy planets the density lighter than Styrofoam, and dense cores of planets still orbing their stars.
The first exoplanets were discovered in the 1990s and since then astronomers have identified thousands using a variety of detection methods. This ever-rising exoplanet tally comes from only a small sampling of the whole Galaxy, and will certainly increase as new telescopes and observatories come online.
To date, most exoplanets have been found through indirect methods: measuring the dimming of a star that happens to have a planet pass in front of it (called a "transit"), or monitoring the light of a star for minute Doppler shift variations caused by the tug of planet.
When scientists are able to use multiple methods together, they can learn the vital statistics of whole planetary systems – without ever directly imaging the planets themselves. The best example so far is the TRAPPIST-1 system about 40 light-years away, where seven roughly Earth-sized planets orbit a small, red star.
The TRAPPIST-1 planets have been examined with ground and space telescopes. The space-based studies revealed not only their diameters, but the subtle gravitational influence these seven closely packed planets have upon each other; from this, scientists determined each planet's mass.
By combining this information with how much energy the host star the energy, scientists were able to estimate the temperatures on these seven planets' surfaces. They can even make reasonable estimates of the light level and guess at the color of the sky, if someone were standing on one of them. And while much remains unknown about these seven worlds, including whether they possess atmospheres or oceans, ice sheets or glaciers, it's become the best-known Solar System apart from our own.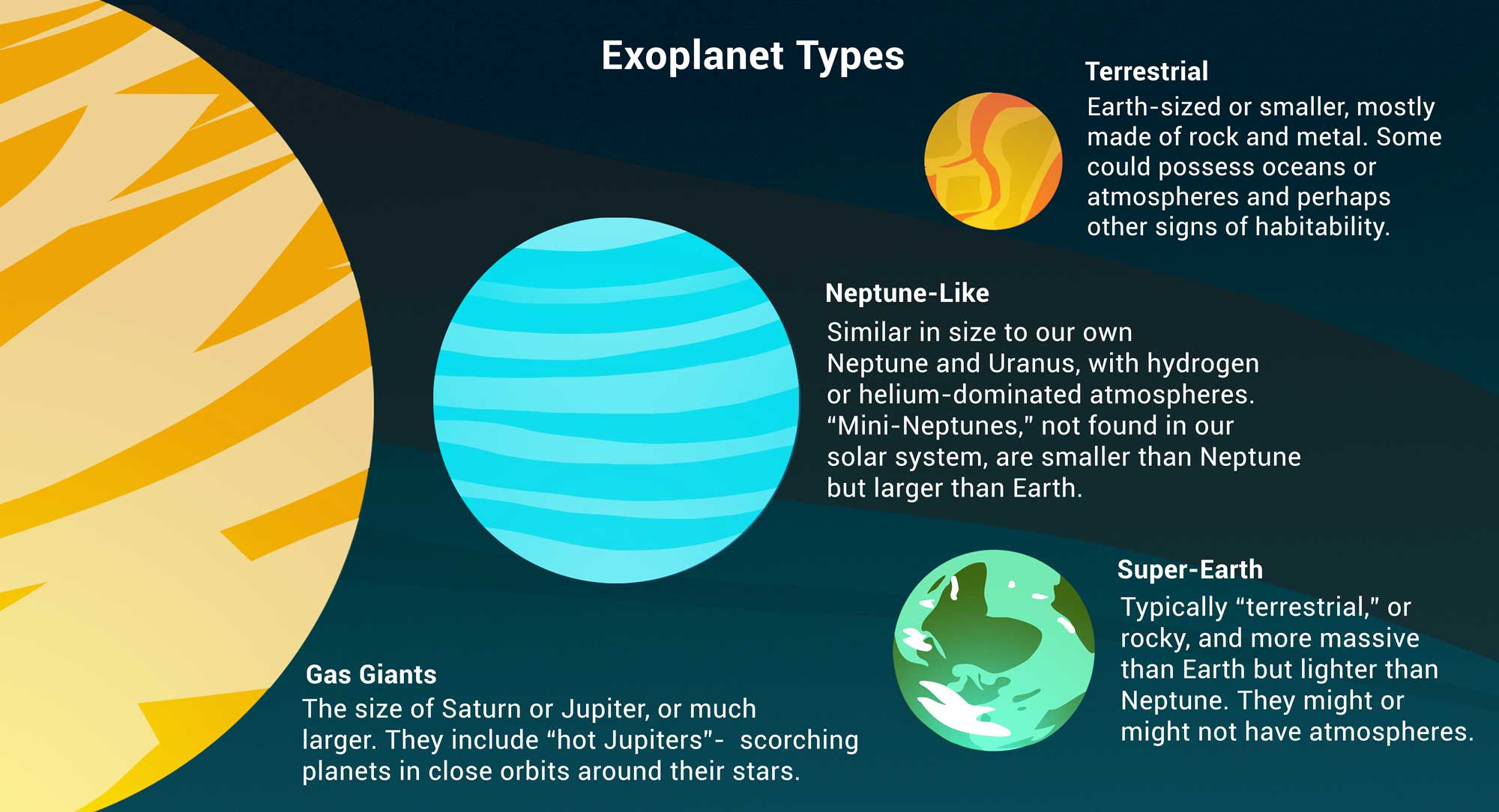 Types of Exoplanets
Each planet type varies in interior and exterior appearance depending on composition:
Gas giants are planets the size of Saturn or Jupiter, the largest planet in our Solar System, or much, much larger. More variety is hidden within these broad categories. Hot Jupiters, for instance, were among the first planet types found – gas giants orbiting so closely to their stars that their temperatures soar into the thousands of degrees (Fahrenheit or Celsius).
Neptunian planets are similar in size to Neptune or Uranus in our Solar System. They likely have a mixture of interior compositions, but all will have hydrogen and helium-dominated outer atmospheres and rocky cores. We're also discovering mini-Neptunes, planets smaller than Neptune and bigger than Earth. No planets of this size or type exist in our Solar System.
Super-Earths are typically terrestrial planets that may or may not have atmospheres. They are more massive than Earth, but lighter than Neptune.
Terrestrial planets are Earth sized and smaller, composed of rock, silicate, water or carbon. Further investigation will determine whether some of them possess atmospheres, oceans or other signs of habitability.