Submitted by

chandra

on Tue, 2017-10-31 09:23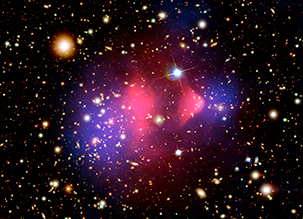 The Bullet Cluster
While October 31st is obviously known best (at least in the United States) as the day to celebrate Halloween, this year it takes on an extra meaning. Scientists and science communicators have designated October 31, 2017 to be "Dark Matter Day".
Dark matter is the mysterious and pervasive substance that constitutes most of the matter in our Universe. Although scientists have made progress in better understanding dark matter, the true nature of this invisible material remains elusive.
NASA's Chandra X-ray Observatory plays an important role in the search to learn about dark matter. For example, in 2006 Chandra's observations of the Bullet Cluster (officially known as 1E 0657-56) helped provide direct proof for the existence of dark matter, in a violent merger between two galaxy clusters. More recently, astronomers have used Chandra to test one model for dark matter by studying a collection of galaxy clusters.