Submitted by

chandra

on Wed, 2019-02-13 14:42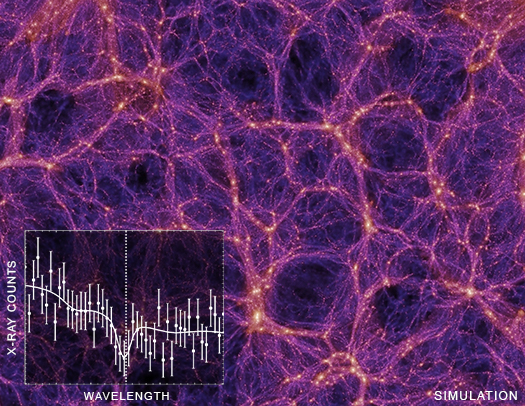 WHIM Simulation
Credit: Illustration: Springel et al. (2005); Spectrum: NASA/CXC/CfA/Kovács et al.
New results from NASA's Chandra X-ray Observatory may have helped solve the Universe's "missing mass" problem, as reported in our latest press release. Astronomers cannot account for about a third of the normal matter — that is, hydrogen, helium, and other elements — that were created in the first billion years or so after the Big Bang.
Scientists have proposed that the missing mass could be hidden in gigantic strands or filaments of warm (temperature less than 100,000 Kelvin) and hot (temperature greater than 100,000 K) gas in intergalactic space. These filaments are known by astronomers as the "warm-hot intergalactic medium" or WHIM. They are invisible to optical light telescopes, but some of the warm gas in filaments has been detected in ultraviolet light. The main part of this graphic is from the Millenium simulation, which uses supercomputers to formulate how the key components of the Universe, including the WHIM, would have evolved over cosmic time.