Submitted by

chandra

on Mon, 2010-06-07 16:24
Yesterday, the 2010 World Science Festival came to a climatic end with its Street Fair. This is the third year for this ambitious science festival that seems to take over Manhattan for several days. This year's Street Fair spilled out from Washington Square Park into the streets around it.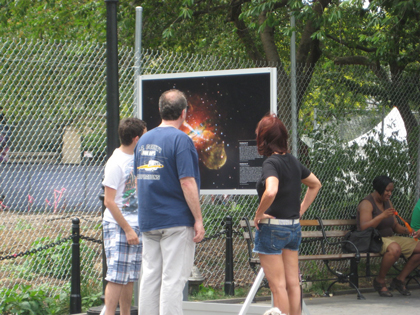 Like last year, the Street Fair showcased Chandra images as part of the "From Earth to the Universe" project. The FETTU panels were arranged around the fountain in the middle of the park, providing a nice route for people to circle. The mood of the festival's attendees was excited and upbeat – which is saying something on a very hot and humid day in New York City.