Submitted by

chandra

on Wed, 2013-08-28 11:00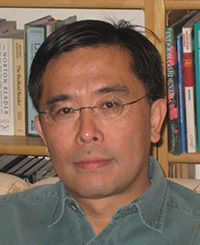 We are delighted to welcome Q. Daniel Wang as a guest blogger today. Daniel is the first author of a paper dissecting the X-ray-emitting gas around the center of our Galaxy, the subject of our latest press release. He is a professor in astronomy at University of Massachusetts Amherst. He was the Principal Investigator of the first large-scale Chandra and Hubble surveys of the Galactic center to explore various components of this exotic ecosystem. He recently enjoyed a four-month stay at University of Cambridge as a Beverley Sackler Distinguished Visiting astronomer, where much of the work reported in the paper was finished.
It has been known for a while that almost all massive galaxies contain a giant black hole at their centers. Most of such black holes, including the one at the center of our own Galaxy, are, however, far dimmer than quasars typically seen in the early universe. This dimness cannot simply be explained by decreasing amounts of material that the black holes could capture. Have the black holes lost their appetite? Or do they just swallow everything that is captured without much radiation? Many theories have been developed. But direct observational tests are hard to come by.