Submitted by

chandra

on Tue, 2017-08-08 13:37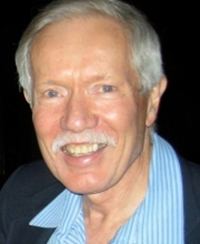 Jeff McClintock
(A continuing series on how astrophysicists' varied career paths. Pathways to the Stars -- I)
Jeff's Journey
Jeff McClintock is recognized around the world as one the pre-eminent experts on black holes. In 2009, he shared the American Astronomical Society's prestigious Bruno Rossi prize, along with Ron Remillard and Charles Bailyn for his work on the measurement of the masses of black holes.
McClintock has also served on the board of directors for the Giant Magellan Telescope, a telescope under construction that when it is commissioned in 2022, will be the largest optical telescope in existence. As it turns out, Jeff has been interested in large telescopes for a long time, going back to his childhood in Port Orchard, Washington.
"I saw an ad in Popular Mechanics," he remembered. "It said, 'You can build a 100-power telescope for $1!'"
McClintock mailed in his dollar, and received two lenses in the mail.
"That was it. Two lenses. I inserted the lenses at the ends of a discarded 8-foot cardboard tube which had been used to store linoleum."
He didn't have a mount for his telescope, so he put it on several chairs in the living room, and looked through it, at some lights across Port Orchard strait near Seattle.
"I could see blue lights across the bay, and read a sign. It was upside down! I took it up to the attic and looked at the moon. I was blown away!"
Inspired by the view of the craters on the moon, McClintock built a second telescope, a 6" reflector.