Submitted by

chandra

on Mon, 2016-06-27 07:27
We are pleased to welcome Bailey Tetarenko as our guest blogger. She is the lead author on a paper featured in our latest press release about a possible new population of black holes in the Galaxy. Bailey received her undergraduate degree in Astrophysics at the University of Calgary and then a master's in Physics at the University of Alberta in 2014. She is now two years into her Ph.D. in Physics at the University of Alberta, where she is studying the black hole population of the Milky Way.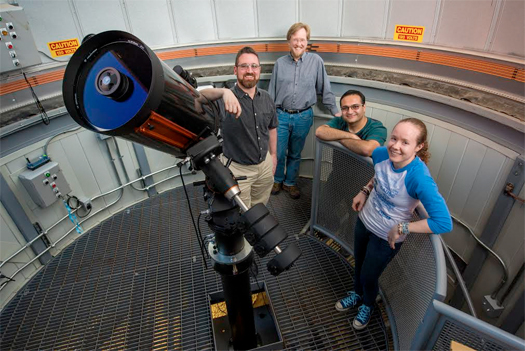 From right to left Bailey Tetarenko, Dr. Arash Bahramian and Dr. Craig Heinke and Dr. Greg Sivakoff. Credit: John Ulan
For fans of black holes, we live in exciting times. Nearly all of our empirical knowledge about stellar mass black holes – that is, black holes weighing about 5 to 35 times the mass of the sun – comes from black hole X-ray binary systems. In these systems a black hole pulls in material from a nearby companion star, causing the system to become very bright in X-rays. But, recently gravitational waves have been detected from pairs of distant black holes that emit no electromagnetic radiation (a.k.a. all forms of light). And now, my team's work suggests that there are many black hole X-ray binaries in our own Milky Way that emit relatively little X-rays.