Submitted by

chandra

on Wed, 2015-09-23 00:17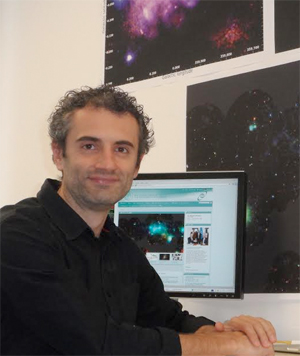 Gabriele Ponti
Dr. Gabriele Ponti is the Marie Sklodowska-Curie EU Research Fellow at the Max Planck Institute for Extraterrestrial Physics in Germany. Prior to that, he was a post-doctoral fellow at the University of Southampton in the UK, after spending a year at Cambridge University's Institute of Astronomy. Dr. Ponti earned his Ph.D. from Bologna University in Italy before moving on to the Laboratories Astro-Particule et Cosmologie in Paris. His doctoral thesis topic was studying relativistic effects in bright active galactic nuclei and he has been interested in this area since then.
As a boy, I read about the existence of black holes for the first time. I still remember the fascination of trying to grasp the physical concepts behind one of the weirdest manifestations of nature.
Black holes produce an enormous gravitational pull, as a consequence of being extremely compact: a significant amount of mass concentrated in a very small volume.