Galaxies Coming of Age in Cosmic Blobs
Submitted by

chandra

on Fri, 2009-06-26 10:54
A deep study of 29 gigantic blobs of hydrogen gas has been carried out with NASA's Chandra X-ray Observatory to identify the source of immense energy required to illuminate these structures. These mysterious blobs - called "Lyman-alpha blobs" by astronomers because of the light they emit - are several hundred thousand light years across and are seen when the Universe is only about two billion years old, or about 15% of its current age.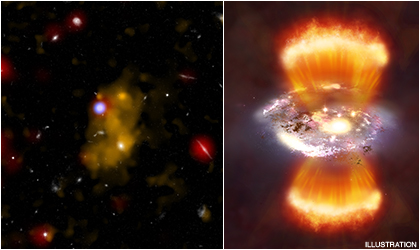 The composite image on the left shows one of the largest blobs observed in this study. Glowing hydrogen gas in the blob is shown by a Lyman-alpha optical image (colored yellow) from the National Astronomy Observatory of Japan's Subaru telescope. A galaxy located in the blob is visible in a broadband optical image (white) from the Hubble Space Telescope and an infrared image from the Spitzer Space Telescope (red). Finally, the Chandra X-ray Observatory image in blue shows evidence for a growing supermassive black hole in the center of the galaxy. Radiation and outflows from this active black hole are powerful enough to light up and heat the gas in the blob. Radiation and winds from rapid star formation occurring in the galaxy is believed to have similar effects. Clear evidence for four other active black holes in blobs is also seen.
More at http://chandra.harvard.edu/photo/2009/labs/
-Kimberly Arcand, CXC
Disclaimer:
This service is provided as a free forum for registered users. Users' comments do not reflect the views of the Chandra X-ray Center and the Harvard-Smithsonian Center for Astrophysics.
Please note this is a moderated blog. No pornography, spam, profanity or discriminatory remarks are allowed. No personal attacks are allowed. Users should stay on topic to keep it relevant for the readers.
Read the privacy statement