TEN YEARS AFTER THE FIRST
Submitted by

chandra

on Tue, 2009-08-25 12:01
Ten years ago tomorrow (August 26th), the official First Light image from Chandra was released to the world. The image was of the famous supernova remnant Cassiopeia A, taken less than a month after Chandra was deployed by the Space Shuttle Columbia.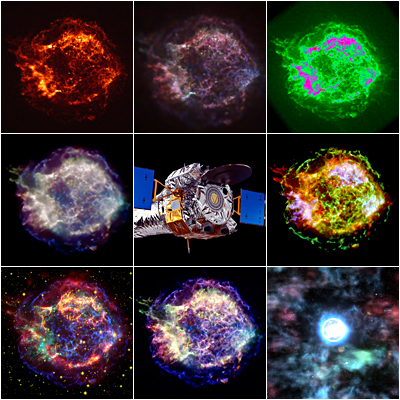 Snapshots of Cassiopeia A
That first image of Cassiopeia A was monumental in several ways. Most importantly, it demonstrated how beautifully Chandra worked. The image was incredibly clear and even revealed the obvious outline of the neutron star that is what is left of the star that exploded.
Since 1999, Cas A (as it's called in astronomical short hand) has been a favorite target for Chandra. Different versions of it have been released over the years, each revealing new clues about this dazzling cosmic fireworks display. In fact, earlier this year, we were able to show Cas A as it's evolved over the years as well as in 3D! But for those who were there for this very first peek at Cas A, it's possible that nothing could ever replace the original.
-Megan Watzke, CXC
Disclaimer:
This service is provided as a free forum for registered users. Users' comments do not reflect the views of the Chandra X-ray Center and the Harvard-Smithsonian Center for Astrophysics.
Please note this is a moderated blog. No pornography, spam, profanity or discriminatory remarks are allowed. No personal attacks are allowed. Users should stay on topic to keep it relevant for the readers.
Read the privacy statement