Carbon Atmosphere Discovered On Neutron Star
Submitted by

chandra

on Wed, 2009-11-04 09:43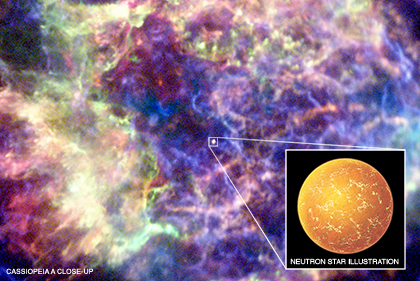 This Chandra X-ray Observatory image shows the central region of the supernova remnant Cassiopeia A (Cas A, for short) the remains of a massive star that exploded in our galaxy. Evidence for a thin carbon atmosphere on a neutron star at the center of Cas A has been found. Besides resolving a ten-year-old mystery about the nature of this object, this result provides a vivid demonstration of the extreme nature of neutron stars. An artist's impression of the carbon-cloaked neutron star is also shown.
Discovered in Chandra's "First Light" image obtained in 1999, the point-like X-ray source at the center of Cas A was presumed to be a neutron star , the typical remnant of an exploded star, but it surprisingly did not show any evidence for X-ray or radio pulsations. By applying a model of a neutron star with a carbon atmosphere to this object, it was found that the region emitting X-rays would uniformly cover a typical neutron star. This would explain the lack of X-ray pulsations because this neutron star would be unlikely to display any changes in its intensity as it rotates. The result also provides evidence against the possibility that the collapsed star contains strange quark matter.
More: http://chandra.harvard.edu/photo/2009/cassio/
-K. Arcand, CXC
Disclaimer:
This service is provided as a free forum for registered users. Users' comments do not reflect the views of the Chandra X-ray Center and the Harvard-Smithsonian Center for Astrophysics.
Please note this is a moderated blog. No pornography, spam, profanity or discriminatory remarks are allowed. No personal attacks are allowed. Users should stay on topic to keep it relevant for the readers.
Read the privacy statement