Galactic Super-volcano in Action
Submitted by

chandra

on Wed, 2010-08-18 11:28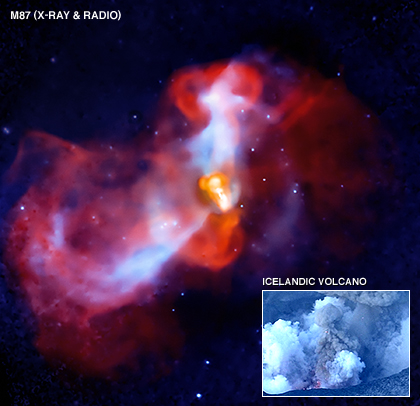 This image shows the eruption of a galactic "super-volcano" in the massive galaxy M87, as witnessed by NASA's Chandra X-ray Observatory and NSF's Very Large Array (VLA). At a distance of about 50 million light years, M87 is relatively close to Earth and lies at the center of the Virgo cluster, which contains thousands of galaxies.
The cluster surrounding M87 is filled with hot gas glowing in X-ray light (shown in blue) that is detected by Chandra. As this gas cools, it can fall toward the galaxy's center where it should continue to cool even faster and form new stars.
However, radio observations with the VLA (red-orange) suggest that in M87 jets of very energetic particles produced by the black hole interrupt this process. These jets lift up the relatively cool gas near the center of the galaxy and produce shock waves in the galaxy's atmosphere because of their supersonic speed.
http://chandra.harvard.edu/photo/2010/m87/
-Megan Watzke, CXC
Disclaimer:
This service is provided as a free forum for registered users. Users' comments do not reflect the views of the Chandra X-ray Center and the Harvard-Smithsonian Center for Astrophysics.
Please note this is a moderated blog. No pornography, spam, profanity or discriminatory remarks are allowed. No personal attacks are allowed. Users should stay on topic to keep it relevant for the readers.
Read the privacy statement