Happy Anniversary, X-rays!
Submitted by

chandra

on Mon, 2010-11-08 11:11

Today, Google is marking the 115th anniversary of the discovery of X-rays by William Roentgen, a German physicist. Here at the Chandra blog, we are not sure if this exact date is the most important one, but we do know that he made his discovery some time during 1895. And, hey, we are always in the mood for a little celebration of all things high-energy.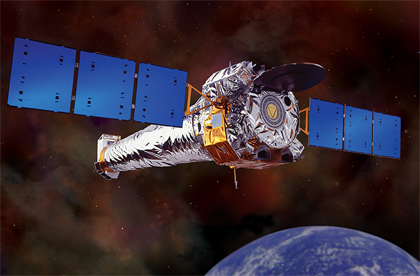 Obviously, we are particularly fond of X-rays here at Chandra. But this is a good time to acknowledge the lineage that William Roentgen started in his lab at the end of the 19th century, and was picked up by scientists and engineers in the next one. From detectors on rockets to Uhuru, Einstein, and ROSAT (short for "Roentgensatellite" in German) to finally XMM-Newton and Chandra, our understanding of the Universe has come a long ways thanks to a discovery made 115 years ago.
-Megan Watzke, CXC
More to explore on X-rays:
X-ray Astronomy vs. Medical X-rays http://chandra.harvard.edu/xray_astro/medxray.html
X-rays in Art conservation vs. X-rays in astronomy http://chandra.harvard.edu/art/xray/
Photo blog of some of our favorite Chandra X-ray images http://chandra.harvard.edu/blog/big_picture.html
Disclaimer:
This service is provided as a free forum for registered users. Users' comments do not reflect the views of the Chandra X-ray Center and the Harvard-Smithsonian Center for Astrophysics.
Please note this is a moderated blog. No pornography, spam, profanity or discriminatory remarks are allowed. No personal attacks are allowed. Users should stay on topic to keep it relevant for the readers.
Read the privacy statement