Supernova Bubble Resembles Holiday Ornament
Submitted by

chandra

on Tue, 2010-12-14 12:34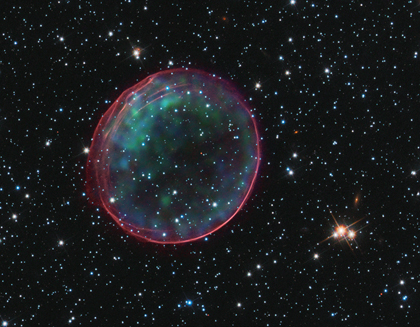 This colorful creation was made by combining data from two of NASA's Great Observatories. Optical data of SNR 0509-67.5 and its accompanying star field, taken with the Hubble Space Telescope, are composited with X-ray energies from the Chandra X-ray Observatory. The result shows soft green and blue hues of heated material from the X-ray data surrounded by the glowing pink optical shell which shows the ambient gas being shocked by the expanding blast wave from the supernova. Ripples in the shell's appearance coincide with brighter areas of the X-ray data.
http://www.chandra.harvard.edu/photo/2010/snr0509/
-Megan Watzke
Disclaimer:
This service is provided as a free forum for registered users. Users' comments do not reflect the views of the Chandra X-ray Center and the Harvard-Smithsonian Center for Astrophysics.
Please note this is a moderated blog. No pornography, spam, profanity or discriminatory remarks are allowed. No personal attacks are allowed. Users should stay on topic to keep it relevant for the readers.
Read the privacy statement