Giant Ring of Black Holes
Submitted by

chandra

on Wed, 2011-02-09 11:12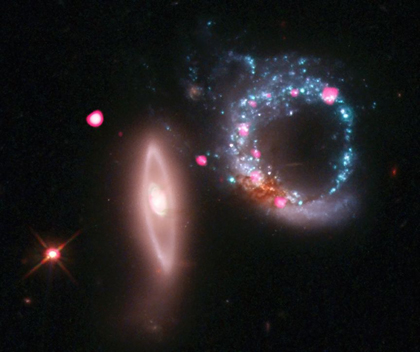 Just in time for Valentine's Day comes a new image of a ring -- not of jewels -- but of black holes. This composite image of Arp 147, a pair of interacting galaxies located about 430 million light years from Earth, shows X-rays from the NASA's Chandra X-ray Observatory (pink) and optical data from the Hubble Space Telescope (red, green, blue) produced by the Space Telescope Science Institute (STScI) in Baltimore, Md.
Arp 147 contains the remnant of a spiral galaxy (right) that collided with the elliptical galaxy on the left. This collision has produced an expanding wave of star formation that shows up as a blue ring containing in abundance of massive young stars. These stars race through their evolution in a few million years or less and explode as supernovas, leaving behind neutron stars and black holes.
A fraction of the neutron stars and black holes will have companion stars, and may become bright X-ray sources as they pull in matter from their companions. The nine X-ray sources scattered around the ring in Arp 147 are so bright that they must be black holes, with masses that are likely ten to twenty times that of the Sun.
http://www.chandra.harvard.edu/photo/2011/arp147/
-Megan Watzke
Disclaimer:
This service is provided as a free forum for registered users. Users' comments do not reflect the views of the Chandra X-ray Center and the Harvard-Smithsonian Center for Astrophysics.
Please note this is a moderated blog. No pornography, spam, profanity or discriminatory remarks are allowed. No personal attacks are allowed. Users should stay on topic to keep it relevant for the readers.
Read the privacy statement