Celestial Bauble Intrigues Astronomers
Submitted by

chandra

on Tue, 2011-12-20 11:59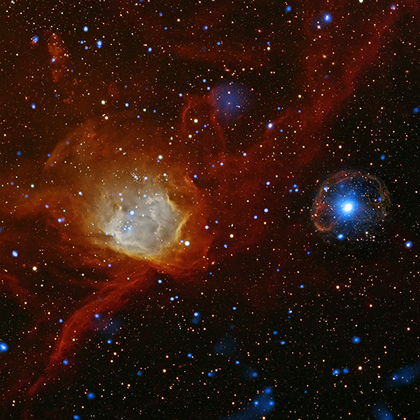 With the holiday season in full swing, a new image from an assembly of telescopes has revealed an unusual cosmic ornament. Data from NASA's Chandra X-ray Observatory and ESA's XMM-Newton have been combined to discover a young pulsar in the remains of a supernova located in the Small Magellanic Cloud, or SMC. This would be the first definite time a pulsar, a spinning, ultra-dense star, has been found in a supernova remnant in the SMC, a small satellite galaxy to the Milky Way.
In this composite image, X-rays from Chandra and XMM-Newton have been colored blue and optical data from the Cerro Tololo Inter-American Observatory in Chile are colored red and green. The pulsar, known as SXP 1062, is the bright white source located on the right-hand side of the image in the middle of the diffuse blue emission inside a red shell. The diffuse X-rays and optical shell are both evidence for a supernova remnant surrounding the pulsar. The optical data also displays spectacular formations of gas and dust in a star-forming region on the left side of the image. A comparison of the Chandra image with optical images shows that the pulsar has a hot, massive companion.
More at http://chandra.harvard.edu/photo/2011/sxp1062/
-Megan Watzke, CXC
Disclaimer:
This service is provided as a free forum for registered users. Users' comments do not reflect the views of the Chandra X-ray Center and the Harvard-Smithsonian Center for Astrophysics.
Please note this is a moderated blog. No pornography, spam, profanity or discriminatory remarks are allowed. No personal attacks are allowed. Users should stay on topic to keep it relevant for the readers.
Read the privacy statement