Life Is Too Fast, Too Furious for This Runaway Galaxy
Submitted by

chandra

on Tue, 2014-03-04 16:57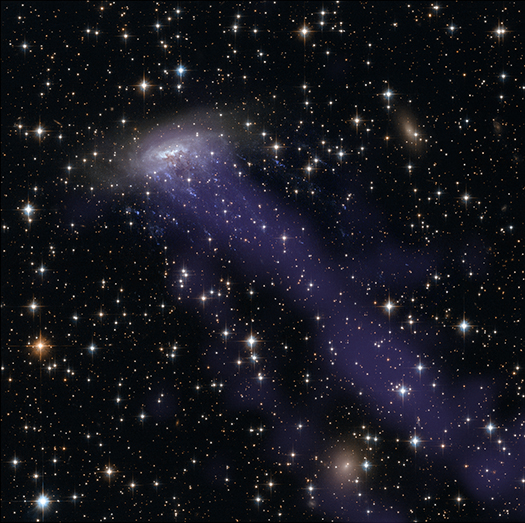 The spiral galaxy ESO 137-001 looks like a dandelion caught in a breeze in this new composite image from the Hubble Space Telescope and the Chandra X-ray Observatory.
The galaxy is zooming toward the upper right of this image, in between other galaxies in the Norma cluster located over 200 million light-years away. The road is harsh: intergalactic gas in the Norma cluster is sparse, but so hot at 180 million degrees Fahrenheit that it glows in X-rays detected by Chandra (blue).
The spiral plows through the seething intra-cluster gas so rapidly - at nearly 4.5 million miles per hour - much of its own gas is caught and torn away. Astronomers call this "ram pressure stripping." The galaxy's stars remain intact due to the binding force of their gravity.
Tattered threads of gas, the blue jellyfish-tendrils sported by ESO 137-001 in the image, illustrate the process. Ram pressure has strung this gas away from its home in the spiral galaxy and out over intergalactic space. Once there, these strips of gas have erupted with young, massive stars, which are pumping out light in vivid blues and ultraviolet.
More at http://chandra.harvard.edu/photo/2014/eso137/
-Megan Watzke, CXC
Disclaimer:
This service is provided as a free forum for registered users. Users' comments do not reflect the views of the Chandra X-ray Center and the Harvard-Smithsonian Center for Astrophysics.
Please note this is a moderated blog. No pornography, spam, profanity or discriminatory remarks are allowed. No personal attacks are allowed. Users should stay on topic to keep it relevant for the readers.
Read the privacy statement