Submitted by

chandra

on Tue, 2019-08-06 11:30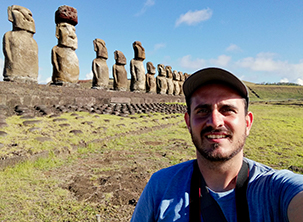 Fabio Vito
We are very pleased to welcome Fabio Vito as our guest blogger. Vito is the first author of a paper that is the subject of our latest press release, on the discovery of a distant, cloaked black hole. He obtained his PhD in 2014 at the University of Bologna, Italy, before moving to Penn State as a postdoctoral researcher. He is now a postdoctoral fellow at the Pontificia Universidad Católica de Chile. He mainly works on the properties and evolution of high-redshift AGN, with the final goal of understanding how they formed and grew in the first billion years of the Universe.
Imagine you are a teacher in a kindergarten starting the school year. You enter the classroom, but instead of finding little children, you see fully grown people — men and women — staring at you. Puzzled, you check with the principal, and they confirm that those people are supposed to be the new kindergarteners, just a handful of years old. Two things come to your mind immediately: 1) this is definitely going to be a very long school year, 2) what happened? Why are adults sitting in your kindergarten classroom?
Astrophysicists find themselves in a similar situation today. According to our theoretical knowledge, supermassive black holes (SMBHs) should grow from "seeds" with masses not larger than hundreds of thousands of solar masses. We then use the most powerful telescopes to find the most distant — both in space and in time — growing SMBHs, shining as "quasars," about 13 billion years ago, when the Universe was just a few hundred million years old. We look for them because astronomers want to study how they grew to become the monsters that populate the older Universe, with masses of billions of solar masses. However, the SMBHs powering the quasars that we find in the kindergarten of the Universe are already fully grown! They are indeed already as massive as the most massive SMBHs in the local Universe.