Submitted by

chandra

on Tue, 2018-11-13 11:17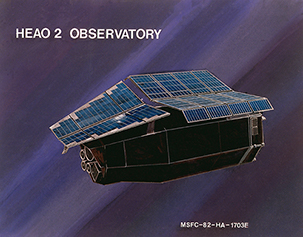 Einstein Observatory/HEAO 2
On November 13, 1978, the High Energy Astrophysical Observatory 2 (HEAO-2) blasted into space from Cape Canaveral, Florida. Renamed the Einstein Observatory after it was successfully placed into orbit, this was the first fully imaging telescope dedicated to looking at X-rays beyond the Sun.
The Einstein Observatory and the Smithsonian Astrophysical Observatory (SAO), part of the Harvard-Smithsonian Center for Astrophysics in Cambridge, Mass., are forever linked. The telescope was conceived, proposed to NASA, run by, and its data processed by SAO. The original conception for Einstein came from a group at the American Science & Engineering company, led by Nobel Prize-winner Riccardo Giacconi, which moved to SAO in 1973. SAO's Leon van Speybroeck, who would later become the Telescope Scientist for Chandra, designed the telescope for Einstein.
In addition to being the first X-ray telescope capable of making images, Einstein was an extremely important mission for other reasons. For example, the Einstein Observatory set aside about a quarter of its observing time for a "Guest Observer" program. SAO's Fred Seward headed the Guest Observer program and ensured an open, competitive process that enabled scientists who were not part of the original consortium to propose observations and to analyze Einstein data.