Cetus
Location:
Northern Hemisphere
Coordinates:
Right Ascension: 1h
Declination: -11º
Source:
Greek mythology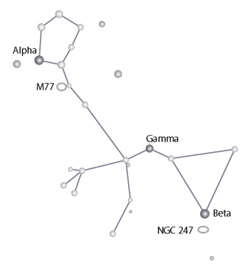 The story behind the name:Cetus was a whale-like sea monster in Greek mythology, sent by the sea god Poseidon to wreak havoc on the kingdom of ancient Aethiopia. Cetus terrorized the coastal waters of Aethiopia until the desperate ruler, King Cepheus, consulted with an oracle over this terrible problem. Cepheus was instructed to sacrifice his daughter Andromeda to the monster, and she was quickly chained to an ocean cliff for Cetus to devour.
At this moment, Perseus, son of Zeus, flew by in his winged sandals. Perseus had just slain the serpent-haired monster Medusa, and carried her fearsome head with him on his journey. Medusa's head was so horrible that any who gazed upon her turned to stone.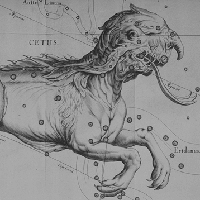 Perseus fell instantly in love with Princess Andromeda. He flew down to save her just as Cetus was rising from the water to attack. In one variation of the myth, Perseus exposed the head of Medusa to Cetus, immediately turning him to stone. In another, Perseus flies about the monster, piercing him with his sword so many times that Cetus finally died.
Introduction to Constellations | Constellation Sources | Constellations Index
Objects observed by Chandra in Cetus: