Where Does the "Harvard" Come From?
Submitted by

chandra

on Wed, 2009-02-04 21:18
As most of you probably know, Chandra is a NASA mission. But, like with children, it sometimes takes a village to raise a mission. In Chandra's case, not only did it take many individuals to make it a success, it has required many institutions and organizations as well. (For a more comprehensive list, see http://www.chandra.harvard.edu/about/axaf_mission.html) But one frequent question we get is: why do you have "Harvard" in your website's name?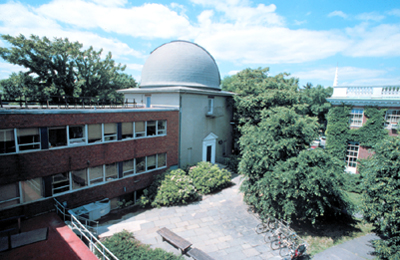 Photo of the CfA
A very reasonable question, if we say so ourselves. The answer comes from where the Chandra X-ray Center is located. Before Chandra's launch, NASA held a competition to select an organization to operate the Chandra X-ray Center and the Operation Control Center and the Smithsonian Astrophysical Observatory (SAO) was chosen. This means that from its Cambridge, Mass. location, SAO runs the flight operations, mission planning, data processing, and user support for Chandra on behalf of NASA's Marshall Space Flight Center.
But what about the "Harvard" part? Well, SAO has for many years been in partnership with the Harvard College Observatory in an astrophysical research entity known as the Harvard-Smithsonian Center for Astrophysics (CfA). In fact, as part of the CfA, SAO is located on Harvard's campus. There are many benefits, of course, intellectually and academically for both Harvard and Smithsonian staff to have this joint research group. On a practical level, this relationship means that, in addition to access to the Harvard office space, libraries, gyms (!), we also use other infrastructure at the university such as Harvard's gateway to the Internet - including domain names. It's a relationship that, we think, has worked really well, even if it does generate a bit of confusion from time to time.
Megan Watzke, CXC
Disclaimer:
This service is provided as a free forum for registered users. Users' comments do not reflect the views of the Chandra X-ray Center and the Harvard-Smithsonian Center for Astrophysics.
Please note this is a moderated blog. No pornography, spam, profanity or discriminatory remarks are allowed. No personal attacks are allowed. Users should stay on topic to keep it relevant for the readers.
Read the privacy statement