Submitted by

chandra

on Fri, 2017-10-13 12:13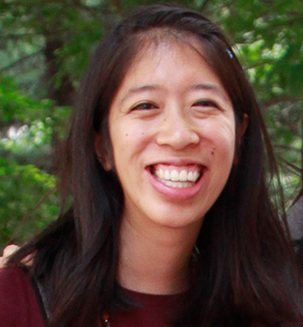 Chandra Scientist Wen-fai Fong
Originally from Rochester, NY, Wen-fai Fong received double Bachelor's degrees in Physics and Biology at the Massachusetts Institute of Technology, and earned her Ph.D. in Astronomy & Astrophysics from Harvard University. She was subsequently awarded an Einstein Postdoctoral Fellowship, which she took to the University of Arizona's Steward Observatory. She is currently a Hubble Postdoctoral Fellow at Northwestern University and will begin her appointment as Assistant Professor there in Fall 2018. Wen-fai is excited about unraveling the mysteries enshrouding cosmic explosions, including gamma-ray bursts and gravitational wave sources.
What are gravitational waves? What are neutron stars?
Gravitational waves are best described as ripples in space-time. To envision these merging compact objects, I always try to think of two round objects on a very flexible trampoline, rolling and rolling around each other. For the most flexible of trampolines, they will create some sort of pattern outward, while also spiraling toward each other and eventually colliding. It's an oversimplified version, but that is how I best imagine what is going on.
In reality, the specific properties of the system — the masses, spins, orbital orientation, and distance — determine the very special pattern of the gravitational waves that are radiated from a system. Scientists then match that pattern against a gigantic bank of patterns by the gravitational wave experts who are able to determine very specific properties of the system. So it is a very neat and elegant problem that is made possible by many years of hard work.