Submitted by

chandra

on Mon, 2017-03-13 18:56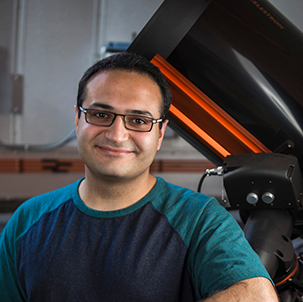 Dr. Arash Bahramian
We are very happy to welcome Dr. Arash Bahramian as our guest blogger. Dr. Bahramian completed his graduate studies at University of Alberta, Canada with Dr. Craig Heinke on X-ray binaries in globular clusters. After defending his PhD in 2016, he moved to Michigan State University to work with Dr. Jay Strader on study of black holes in globular clusters. He is the first author of the paper featured in our most recent press release.
Stellar mass black holes are formed by the deaths of massive stars. Like other black holes, these objects do not emit any light of their own, and astronomers try to identify them from their interactions with their environment. For example, in a close binary with another star, the black hole's strong gravity pulls material from the companion star. This material falls towards the black hole through a disk called an accretion disk. The massive release of energy due to infall of matter towards the black hole plus friction between particles in the disk, makes this disk extremely hot (about a million degrees Kelvin, roughly 200 times hotter than the surface of the Sun). This temperature is high enough to make the disk bright in X-rays, and so X-ray observatories like NASA's Chandra X-ray Observatory have been used to identify and study these systems.
Over the last few decades, dozens of stellar mass black holes (and black hole candidates) in close binaries with another star have been identified throughout our Galaxy. However, none of these black holes were found in old dense stellar clusters known as globular clusters. This was surprising at first, as we would expect a lot of black holes (maybe around 1000 of them) in these clusters, because many massive stars should have turned into black holes. Furthermore, a crowded stellar environment like a cluster makes interactions between black holes and other stars more likely. For a long time, this absence of black holes in dense stellar clusters was thought to be a result of black holes getting kicked out of the cluster, due to their strong gravity and rapid movement after interacting with other stars and other black holes in the cluster.